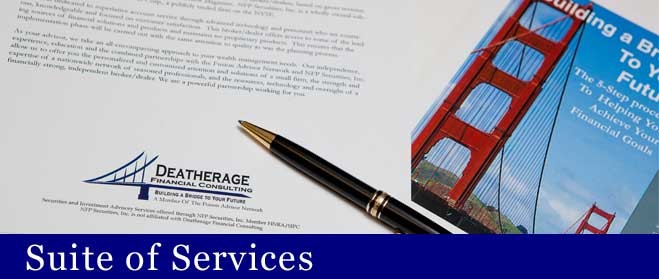 By utilizing our suite of services, you can be rest assured that you will always receive independent, professional advice for your unique situation.
FINANCIAL PLANNING
This is a comprehensive approach involving all areas of your financial life. The process is analytical and advisory in nature, involving evaluation of your present situation with specific recommendations in each area. Financial planning is a process, not an event. Thus, this service requires periodic review and revision.
DISTRIBUTION PLANNING
The strategies used to accumulate wealth are vastly different from those used to distribute wealth. For retirees or soon-to-be retirees, we evaluate three different methods of distribution for your retirement. You've worked hard to accumulate a nest egg, now let us help you plan and provide an income that can last the rest of your life.
INVESTMENT MANAGEMENT
Evaluation of an investment portfolio involves time, experience and wisdom. Your investment portfolio should be guided by goals and objectives and may include capital appreciation, current income and preservation of principal strategies. Let us analyze and evaluate your portfolio's effectiveness given your unique goals, objectives, risk tolerance and timeframe.
RISK MANAGEMENT
Goals are reached not only by accumulating wealth, but also by ensuring their completion even if things don't go as originally planned. Managing risk involves a good defensive plan through a variety of market conditions.
For individuals, risk management includes building a portfolio that may include retirement and insurance products such as life, disability, health, long-term care, property and casualty and liability.
Business owners should manage their business risks to preserve their personal and business assets and develop a plan that will sustain the life of their business.