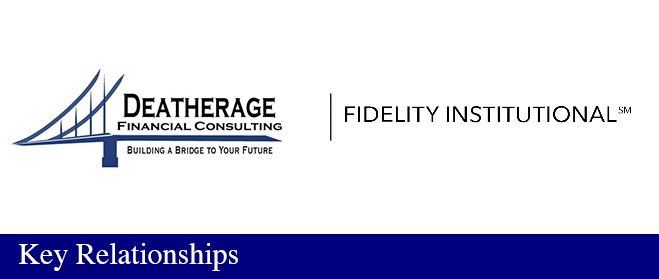 When you become a client of Deatherage Financial Consulting (DFC), you become the beneficiary of a relationship with two outstanding organizations: Kestra Financial, Inc. and Fidelity Institutional®.
Kestra Investment Services, LLC
Deatherage Financial Consulting is supported by a relationship with Kestra Investment Services, LLC, a top 10 independent Broker-Dealer by gross revenue*. Kestra Financial, Inc. is the parent company of Kestra Investment Services, LLC (Kestra IS).
Kestra IS is dedicated to superlative account service through advanced technology and personnel who are courteous, knowledgeable and focused on customer satisfaction. This broker/dealer offers access to some of the leading sources of financial solutions and products and maintains no proprietary products. This help ensures that the implementation phase will be carried out with the same attention to quality as was the planning process.
*as of 12/31/2019
ThinkAdvisor, 2019 Broker-Dealer Reference Guide
Fidelity Institutional

®
As part of our effort to provide you with quality service, Fidelity Institutional® provides a comprehensive clearing and custody platform, brokerage services, trading capabilities, and practice management and consulting to broker-dealer firms, banks, and insurance companies through National Financial Services LLC (NFS). In addition to providing services to third-party institutions, the NFS brokerage platform supports all the clearing and custody businesses at Fidelity, including Fidelity's retail and capital markets businesses, bringing NFS assets under administration to over $4 trillion.*
The strength and reputation associated with Fidelity Investments is one of the many reasons we are pleased to be working with Fidelity Institutional®.
*As of 7/31/2020
Fidelity Investments and Fidelity InstitutionalSM (together "Fidelity") is an independent company, unaffiliated with Deatherage Financial Consulting ("DFC"). Fidelity is a service provider to Kestra Financial, Inc. There is no form of legal partnership, agency affiliation, or similar relationship between your financial advisor and Fidelity, nor is such a relationship created or implied by the information herein. Fidelity has not been involved with the preparation of the content supplied by DFC, and does not guarantee, or assume any responsibility for, its content. Fidelity Institutional provides clearing, custody, and other brokerage services through National Financial Services LLC or Fidelity Brokerage Services LLC, Members NYSE, SIPC 835983.21.0